Looking For Best Easy Queso Cheese Dip Recipe
When it comes to chips and dips, it is hard to beat an easy queso cheese dip recipe.  There's so many queso dip recipes but my simple queso recipes are healthier, gluten-free and without Velveeta.  I have another easy cheese dip recipe called Chili Con Queso in KITCHEN 101 cookbook.  However, I decided to create another version and this easy queso dip recipe in Guy's Guide To Eating Well knocks it out of the park.  After all, I had to keep it a quick queso recipe because this southwestern favorite is in my men's wellness cookbook. With just about 5 ingredients, you can whip up this Mexican queso dip recipe as quick as you make yourself a Margarita!
If you always order queso, whip up my creamy Queso dip to satisfy your chip and dip cravings—maybe with a margarita?
Servings
12
(1/4-cup) servings
1

12-ounce

can evaporated skim milk

1

tablespoon

cornstarch

2

tablespoons

reduced-fat cream cheese

1

cup

shredded reduced-fat sharp Cheddar cheese

1

10-ounce

can diced tomatoes and green chilies

drained

1

teaspoon

chili powder
In large nonstick pot coated with nonstick cooking spray, combine evaporated milk and cornstarch. Bring to boil, stirring constantly, until thickens about 4 minutes.

Add remaining ingredients, cooking until cheese is melted and mixture creamy.
Nutritional info per serving: Calories 64, Calories from Fat 32%, Fat 2g, Saturated Fat 2g, Cholesterol 8mg, Sodium 205mg, Carbohydrates 5g, Dietary Fiber 0g, Total Sugars 4g, Protein 6g, Dietary Exchanges: 1/2 fat-free milk
Serving Suggestion: Serve dip heated with tortilla chips.
Terrific Tip: Liven up your Queso with chopped spinach, ground meat, chicken or whatever sounds good to you!
My Men's Cookbook Includes Popular Queso Cheese Dip Recipe
Yes, this is a man's cookbook for health and wellness but, of course, I included a chapter called Fix It Fast-Fix It Slow. This chapter in Guy's Guide To Eating Well includes my fastest of fast recipes and slow cooker recipes for those that rely on crock pot cooking! Something for everyone!
So, this cookbook covers it all from chapters on cancer, heart disease, GERD, arthritis and more.  Most importantly, you'll find a selection of healthy, easy recipes you can whip up with minimal ingredients.
One Bite Of Easy Queso Dip Recipe For Queso Dip Heaven
I admit I am a junk food eater and always order Queso Cheese Dip whenever we pick up Mexican food. However, I know it is probably high fat and not good for you.  My mission was to create a simple easy cheese dip recipe that satisfied that taste and healthier. I also have had so many people request a gluten free queso dip, so your wish is my command with this version of creamy, cheesy dip that's gluten free and better for you.  Serve with vegetable rounds for another healthier touch.  Don't turn up your nose as it is really good with fresh veggies.  In fact, this queso cheese dip recipe from my men's health cookbook is so good with everything, even with a spoon!
Get My Top 25 FAST & FABULOUS FOOTBALL TAILGATING RECIPES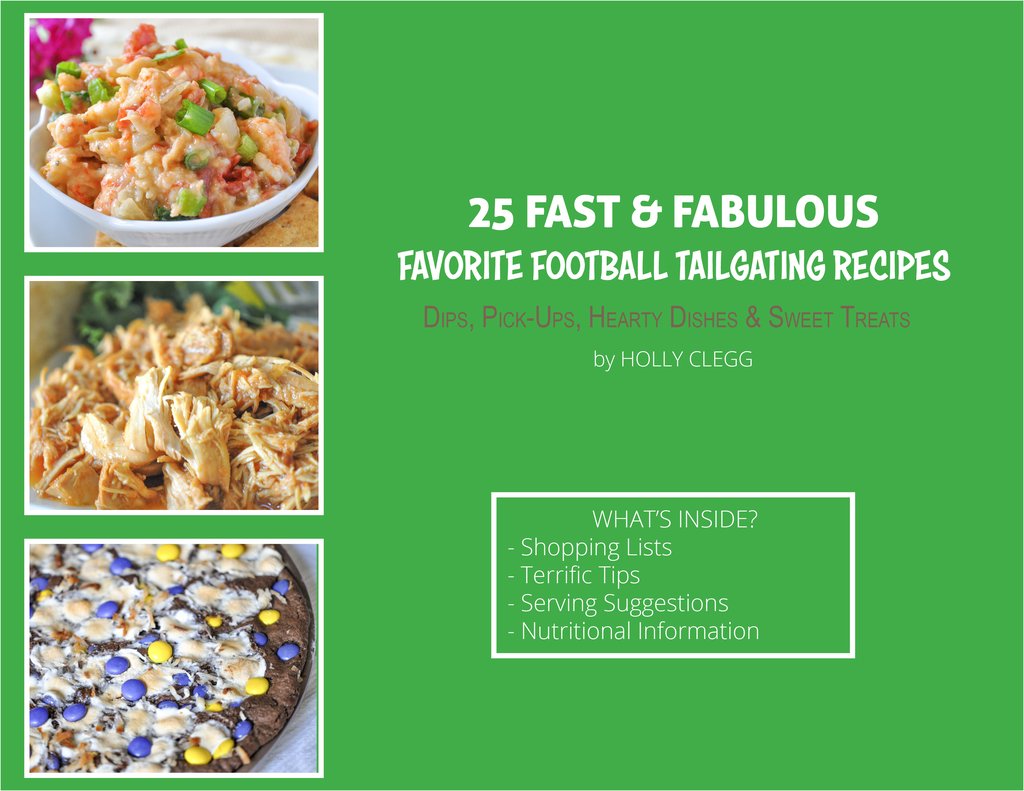 25 Fast & Fabulous Favorite Tailgating Recipes
I'm so excited to give you my 25 Favorite Football Tailgating Recipes available for only $1.99! 
I've included dips, pick-ups, hearty food and the best of my sweet treats.  Best of all, it comes with a SHOPPING LIST so I've done all the work for you from your menu to your grocery run.
Healthier and EASY-TO-MAKE recipes with the nutritional information.  If you have health concerns, I highlighted gluten-free and diabetic-recipes.  DOWNLOAD  this great menu of party option.
How To Serve Your Easy Queso Dip Recipe
There's many ways to serve my easy queso dip recipe.  You can use a slow cooker but I like this electric Cuisinart Fondue Maker.  Of course, this easy queso dip won't last long but this is an easy put on and serve way.
Fondue pots have come a long way. Use any of my delicious dips in the fondue pot to serve easily.

Add Ingredients to My Easy Queso Dip Recipe
I know whenever we order Mexican food my son wants a meaty queso dip.  So, use this easy queso dip recipe and just add ground beef.  Be sure to use ground sirloin for your leanest cut of meat.  I also have this amazing Taco Dip recipe you can whip up if you are a meaty Mexican food eater. If you prefer a queso with veggies, toss in some fresh spinach, red bell peppers or whatever veggies you prefer. I even created a fabulous Crawfish Queso Dip using Louisiana crawfish which is very popular in my house!  Frozen crawfish tails work great in the Crawfish easy queso dip recipe!
Get All My Healthy Easy Cookbooks
Shop my Cookbooks
The post Queso Cheese Dip Recipe – Best Of Southwestern Easy Queso Dip Recipes appeared first on The Healthy Cooking Blog.