Lasagna Bolognese is lasagna in its purest form. Just layers of tender noodles, beef ragu, and creamy bchamel all baked together into this classic, crowd-pleasing, make-ahead meal.
I always thought of lasagna as this intense, super cheesy, many-layered undertaking. There was a time in my 20s when I mastered a very good version with layers of Italian sausage, spinach, ricotta, and mozzarella. I made it a few times for friends and each time I was thrilled with the result, but annoyed with the process. All of that cheese was expensive and all those layers took so much time. Finally I gave up and quit lasagna altogether.until my 30s. My late 30s. OkayIll be 39 in a few months. So, basically, I gave up on lasagna for a long time.
But now lasagna is back to stay, and its all because of this gooey, delicious, layered beauty. Lasagna Bolognese. It still takes a bit of work to prepare the 3 layers (lasagna is never going to be a weeknight undertaking) cooked noodles, beef ragu, and bchamel. But the assembly is so easy that I delegate it to my 5-year-olds. Heres how to do it:
Beef Ragu
The first layer of lasagna bolognese is the beef ragu. It doesnt need to be anything fancy just a classic meat and tomato sauce. If you can, this is a great thing to make in the Instant Pot or slow cooker as described in Simple Beef Ragu. Slow cooking or pressure cooking the ragu will give it maximum flavor. (That recipe makes the right amount for this lasagna, or double it and serve the ragu over noodles one night and in lasagna later in the week.)
Note: Many lasagna bolognese recipes use a more complex sauce with pancetta, pork carrots, celery, Italian sausage, or other aromatics and spices. My ragu is much more simple, but I promise you wont miss a thing.
Bchamel
Bchamel sauce is a creamy white sauce made from butter, flour, and milk. Sounds fancy, but its really pretty easy to make. (Bonus that its the base for a really good homemade mac and cheese, so its a useful thing to master!)
Lasagna Noodles
Lasagna noodles provide the foundation for lasagna. You do have to boil them and that takes some time, but I find the texture to be so much better than using no-boil lasagna noodles. Those sad no-boil noodles dont have all the curly edges and dont give you the same brown, crunchy bits on the top as the dish bakes. Do yourself a favor and take the extra time to boil the noodles.
Parmesan
Parmesan cheese is the last layer of the dish. Its worth getting a good quality Parmigiano-Reggiano since this is the only cheese in this dish.
How to Make Lasagna Bolognese
Once all of the layers are prepared as outlined above, making the dish is easy. Use a 913 baking dish, or a square 99 baking dish with tall sides. Start with a thin layer of ragu in the bottom and then alternate noodles, a drizzle of bchamel, parmesan cheese, and ragu. Finish the very top with a layer of noodles, bchamel, and parmesan cheese.
If Im making a thicker lasagna in a 99 baking dish as shown in the photos, I like to tear or slice the noodles so they are the right size for the dish. I use all the extra smaller pieces of noodles to make the first layer of the dish.
Once the dish is assembled, cover it with foil and bake it at 325F for 1 hour. Remove the foil and bake for 10 to 15 minutes more to let the edges get all golden and crisp.
Make Ahead
Lasagna is a fantastic make-ahead meal. Here are a few options for making this ahead:
Beef Ragu

Make this up to 4 days ahead and refrigerate. (This also freezes well for 4 to 6 months.)

Bchamel

Make bchamel up to 2 days ahead and refrigerate.

Noodles

Boil the noodles up to 5 hours ahead. To keep them from sticking, line them up in a single layer on a cooling rack when they come right out of the water. As they cool, you can move them to be slightly overlapping to create more space. Leave them at room temperature until youre ready to assemble.

Lasagna

The entire dish can be assembled and refrigerated for up to 24 hours. If you bake it straight from the refrigerator, add 5 to 7 minutes to the cook time.
Freeze This Meal
To Freeze: Assemble the entire dish and cover tightly with foil. Freeze for up to 6 months.
To Reheat: The lasagna must fully defrost in the fridge before you can bake it. This is such a dense dish that it can take 4 to 5 days to completely defrost in the fridge, so make sure you give it plenty of time. Then bake according to directions below.
If youre going to freeze this meal, print the recipe below for a label with reheating instructions that you can attach to the top of the meal.
Other Italian Favorites
Favorite Tools
Baking Dish Use a

913 Baking Dish

or a

99 Baking Dish

with deep enough sides to hold all of the ingredients. (Note: The 99 I use for this is much deeper than the one I would use for brownies or other baked dishes; if in doubt, use a 913 dish so you dont run out of room.)
Lasagna Bolognese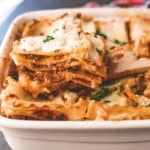 Lasagna Bolognese is lasagna in its purest form. Just layers of tender noodles, beef ragu, and creamy bchamel all baked together into this classic, crowd-pleasing, make-ahead meal. It takes a little bit of time, but the result is totally worth it.
Ragu
1 Tbsp Cooking Oil ((olive oil works great; I use grapeseed oil or avocado oil for most everyday cooking))
1 1/2 lbs Ground Beef ((93% lean))
1/2 tsp Salt
1/4 tsp Black Pepper
4 cloves Garlic, chopped
1 Tbsp Dried Basil
2 tsp Dried Oregano
1/2 cup Water
1 28oz can Crushed Tomatoes
1 tsp Sugar
Bchamel
4 Tbsp Butter
1/4 cup All-Purpose Flour
3 1/2 cups Milk, divided ((preferably whole milk for a richer flavor and creamy texture, but 2% will work))
Pinch Ground Nutmeg
Lasagna Assembly
1 lb Dried Lasagna Noodles
4 oz Parmigiano-Reggiano, finely grated
Make the ragu
Heat oil in a large heavy-bottomed skillet or Dutch oven over medium heat. (Note: if you are going to cook the entire sauce on the stovetop, be sure to use a pot that will hold all of the ingredients.)

When oil is hot, add beef, salt, and pepper.

Cook beef, breaking it apart with a spoon or spatula, until cooked through, 8 to 12 minutes.

Add garlic, dried basil, dried oregano, water, and crushed tomatoes. Stir well.

Let sauce cook until it begins to bubble, 5 to 6 minutes.

Reduce heat so that the sauce is barely simmering and give it another good stir.

Place a lid on the pot and let it simmer gently for 30 minutes to let the flavors develop.

Check the sauce occasionally to be sure it isnt burning on the bottom and to reduce the heat if needed.

Stir sugar into the finished sauce. Taste and season the sauce with some salt and pepper or a bit more sugar, if needed until it tastes balanced.
Make the bchamel:
Melt butter in a large saucepan over medium heat. When butter is melted whisk in flour and cook, whisking frequently (and checking to be sure that none of it browns or burns on the bottom of the pan), until the mixture turns light golden brown, 3 to 4 minutes.

Add about 1 cup of milk (just eyeball it) while whisking vigorously. Keep whisking until the milk heats up and everything is evenly combined. Slowly pour the remaining milk into the pan while whisking. Reduce heat to medium-low and continue cooking everything until the mixture thickens and becomes a smooth, creamy sauce, about 10 minutes. (Note: Resist the urge to turn up the heat and speed things along. If the milk starts to boil it can make the bchamel gritty.)

Remove bchamel from heat and whisk in nutmeg. If you used unsalted butter, whisk in tsp of salt.
Boil the noodles
Bring a large stockpot of salted water to a boil. When boiling, add lasagna noodles and boil according to package directions. As the noodles cook, use a wooden spoon or spatula to gently separate them so they dont stick together while boiling.

Drain noodles and lay flat in a single layer on a baking sheet or cooling rack.
Assemble and bake
Heat the oven to 325F.

Spray a 913 baking dish (or a 99 baking dish with very tall sides) with nonstick cooking spray or rub it with some olive oil.

Spread the bottom of the pan with a very thin layer of ragu (it should not fully cover the bottom). Add noodles, a drizzle of bchamel, a sprinkle of parmesan cheese, and another layer of ragu. Repeat the layers until you have used all of the ingredients. Finish the top layer with noodles, bchamel, and parmesan cheese.

Cover the baking dish tightly with foil and place it on a rimmed baking sheet (just in case it bubbles over).

Bake, covered, for 1 hour. (Note: If you are making a thicker lasagna in a 99 dish or if you baked your lasagna straight from the refrigerator, add 5 to 7 minues here to be sure it's piping hot all the way through.)

After 1 hour, remove foil and increase ovens heat to 400F.

Return lasagna to the oven and continue baking for 10 to 15 minutes to let the edges get crisp.

Let the lasagna cool for 10 minutes before slicing and serving. (Its much easier to slice and serve if its had a few minutes to cool.)
Want to make the ragu in the slow cooker or Instant Pot? Get instructions for those cooking methods in this Simple Beef Ragu.
The entire dish can be assembled and refrigerated up to 24 hours ahead. If you prefer to make the components ahead, the beef ragu can be made 4 days ahead, the bchamel can be made 2 days ahead, and the noodles can be boiled (and left at room temperature) 5 hours ahead.
If youre going to freeze this meal, attach this label to the top so the instructions are right at your fingertips.
This post is not sponsored, but it does contain affiliate links. There is no extra cost to you, but we may earn a small commission. Thank you for your support!
The post Lasagna Bolognese appeared first on Inquiring Chef.